How to Send Bitcoin to Ledger Nano S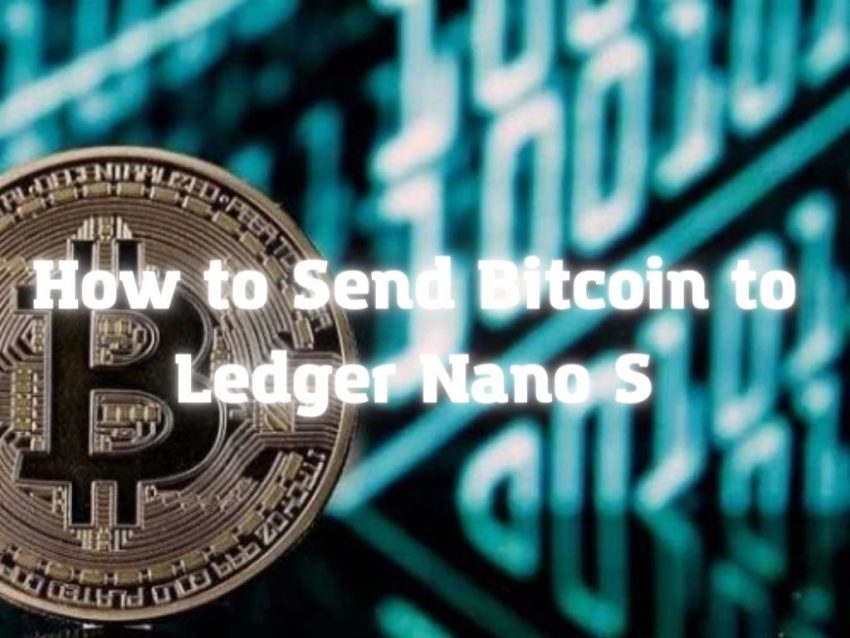 Bitcoin is the most popular cryptocurrency out there. With the current crypto crisis raging, you will want to keep your funds somewhere safe. Somewhere very safe. Markets will recover, but why risk your crypto coins.
There is no safer place to keep your crypto than a hardware wallet. It's a nifty device, no larger than a USB stick. It will keep your bitcoin and other cryptocurrencies offline, away from the perils of the Internet.
They are user-friendly, easy to use, and the safest method of keeping crypto, for new users and veterans of crypto alike. Ledger is a company making the best devices, and the Nano S model is one of the most popular. For a reason!
How to send bitcoin to Nano S from Coinbase
Coinbase is one of the largest crypto exchange platforms out there and is surely the one very popular among new users. It was started with the radical idea that anyone, anywhere should be able to easily and securely send and receive bitcoin. Now is by far the most accessible, easy-to-use, crypto platforms, expanding into altcoins, crypto similar to bitcoin, as well as offering access to crypto exchange in a very convenient manner.
If you have purchased Nano S or Nano X devices, and you plan to hold on to your crypto (as you should), the best idea is to transfer your crypto coins to the Ledger as soon as possible.
As you will see, it's not very difficult, and we'll guide you step by step.
Assuming you have an account with Coinbase and you have bitcoin to transfer, the first next step is to set up a wallet on your Ledger. So, let's do that. This is how to generate a Ledger wallet bitcoin address.
Download and install the Ledger Live app
Go to the download page and get the app for your desktop device. Beware of phishing attacks. Basically, never ever give your recovery phrase to anyone. Ledger or their representatives will never ask you for the 24-word keyphrase. Phishing is an attempt by malicious hackers to trick, con, or pressure you into sharing this essential security measure. It's way worse than giving away your password. With the key phrase sequence, anyone can irrevocably gain access to your funds.
Open Ledger Live
Connect your Nano device to the Manager and make sure it is running the latest firmware version. If the device needs an update, make sure to take care of it before proceeding.
Install the bitcoin (BTC) app on your Ledger device
Open Ledger Live, navigate to the Manager tab. Connect and unlock your Nano. Allow the manager on your device, if asked. Search for Bitcoin (BTC) in the app catalog. Click the Install button. Wait until the device displays Processing, then Installed.
Now you're all set. Make sure you have funds on Coinbase waiting to be transferred.
Plug in your Ledger
If it's not already connected. Make sure to input your pin code and password.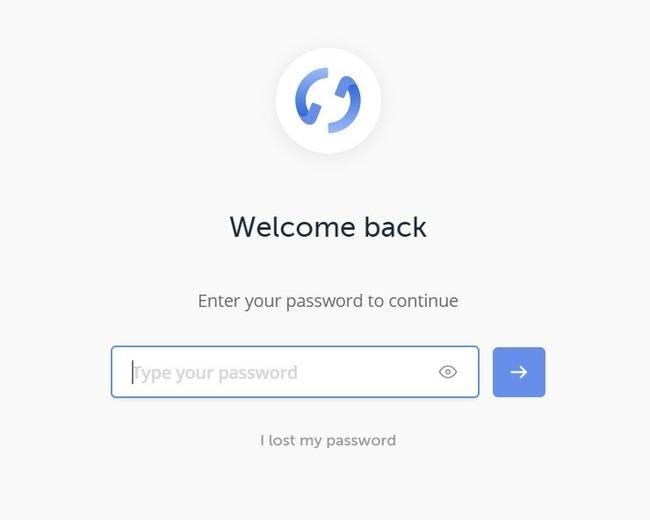 Select "Recieve" on the left hand side menu.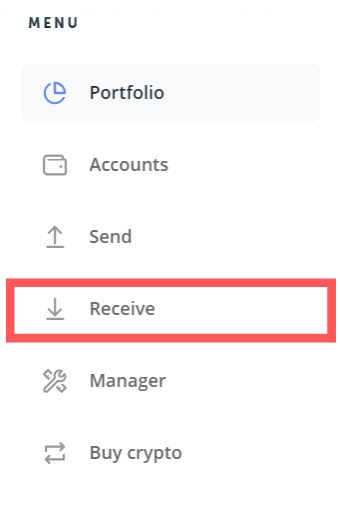 Choose an account
Your Ledger Nano can contain multiple accounts for multiple cryptocurrencies. So make sure that you select Bitcoin (BTC) account that you want to use. Select "Continue" when you are ready.
Open the right app on the device
On your Nano, select the bitcoin app, by pressing both buttons simultaneously, while the app is highlighted.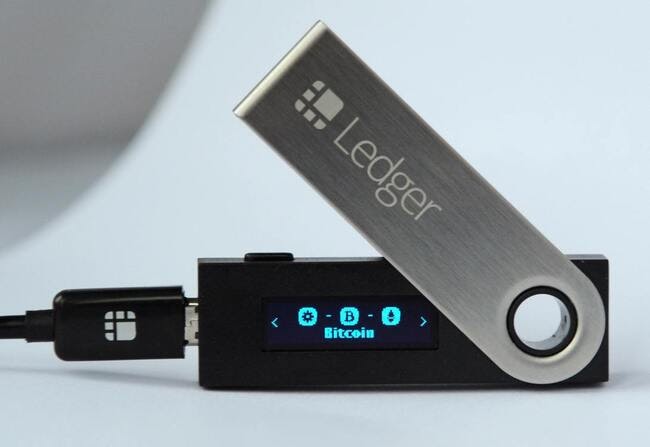 Wait for the Ledger Live to confirm that Nano is connected and that the correct app is opened on the device. Then select "Continue" when the both confirmations are checked.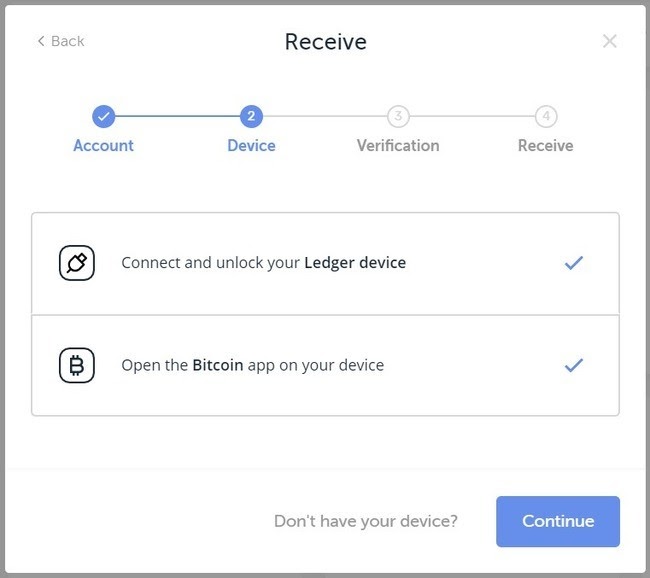 Select "Continue" once the "Verify address on device" is prompted
Look at the address shown on the Ledger Live and make sure it matches exactly the address which will be displayed on the screen of your Nano. Double-check.
Okay, if it looks good, then select the button on the right side of the Ledger Nano S to confirm.
Ledger Live will let you know that the address is confirmed. Now, copy the address. You can either do it by clicking the copy button or selecting and copying.
Log in to Coinbase
Once you are at the dashboard, select 'accounts'. In the accounts screen select the wallet you want to send from. Coinbase calls your bitcoin wallet 'My Wallet' and you will recognize it by the yellow B logo. Now, hit "Send".
Enter your Ledger address
Now is the time to take the address that Ledger Nano gave to you and copy it into the 'Recipient' box, followed by the amount of bitcoin you want to send. There is also a place to enter a note, which is very useful because you can easily identify the transaction later, "crypto backup on day X.Y", "withdrawal to Nano" whatever you like.
Time to click "Continue".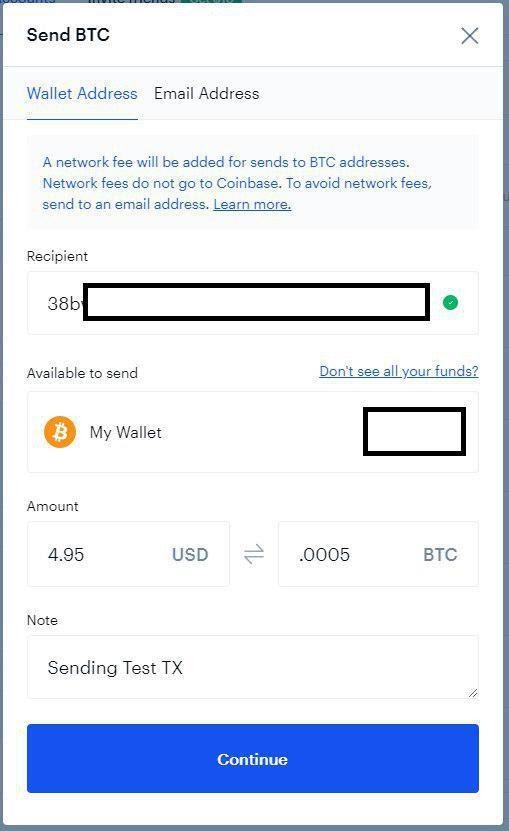 Congratulations, that's it. You've made it. You can go to 'View Details' to track the progress of your transaction. You want to check the number of confirmations, the higher it gets, the funds are closer to the safety of your Nano.
FAQ
Where are my bitcoins? I don't see them on my Ledger?
Check the number of confirmations, again. If you followed the procedure, your bitcoins are safely on the way to the Ledger. Network nodes have to confirm the transaction, and maybe it didn't reach Ledger's node yet.
How long until my funds are on the device?
It's not uncommon for there to be an hour, but on average it shouldn't take longer than 20-30 minutes.
I am missing an amount from my crypto exchange wallet, but the same amount didn't shop up on my Ledger. What can I do? Are my bitcoins lost?
You should use Block Explorer to find if your transaction got any confirmations. To get bitcoin credited to your account you need at least one confirmation.